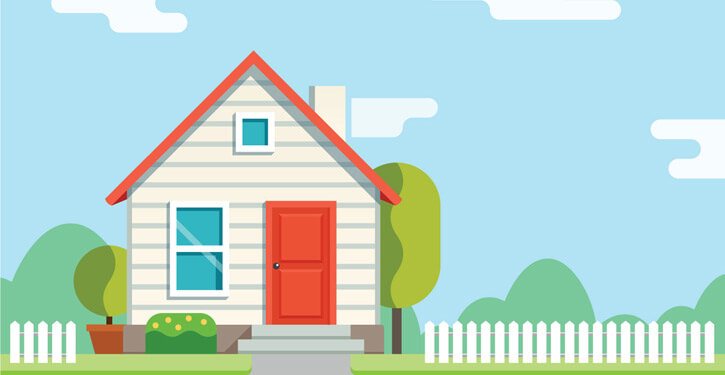 Using a 650 Credit Score to Buy a House
We all have our dreams of the perfect home, white picket fence, and a family dog (or cat). But what credit score is needed to buy a house? Does having a credit score of 650 mean that those dreams won't become a reality? Luckily, no! You can still realize your dreams, and purchase that home. A 650 credit score mortgage is possible for many people. It may be a bit more difficult for someone with a 650 score than for someone with a score above 700, which is a more ideal credit score to buy a house. But if you're looking to get a mortgage with a credit score of 650, here is what you need to know.
Conventional vs FHA – 650 Credit Score Mortgage
There are really two types of mortgages that you should know about, conventional and FHA. So what's the difference? And why does it matter to people with a 650 credit score mortgage?
What is a Good Credit Score to Buy a House with a Conventional Mortgage?
A conventional loan is when the bank lends money to someone based on their credit history. The buyer needs to have a down payment. This down payment is usually between 3 and 20 percent of the cost of the house. Buyers who have lower credit scores may have to put down as much as 30-35%. This is something to keep in mind when you are looking to buy a home with a credit score of 650. It can be helpful to seek out smaller, local banks when you have a credit score of 650 and are looking to get a mortgage. Often these smaller lenders can approve loans based on references etc. instead of simply relying on the credit score alone to approve or deny a loan. Larger lenders are often less forgiving of a low credit score. The good news for people with a credit score of 650 is that according to bankrate.com the new minimum for a conventional loan is a credit score of 620. The good thing about conventional loans is the process can go much more quickly than with an FHA loan. Also, you can build home equity more quickly since you probably had to put more down for a down payment. The down side is that interest rates are usually based on credit and the size of the down payment you can afford. Therefore, a 650 credit score mortgage will likely be looking at higher interest rates.
FHA Mortgage Loans and Credit Score Needed to Buy a House
An FHA loan is a loan that is guaranteed through the Federal Housing Administration. It is government program that protects lenders so they are not responsible for the money that is loaned. According to FHA.com with an FHA loan you typically need to have a minimum credit score of 580, but at times they may accept people with scores lower than 580. The wonderful thing about FHA loans is that you can typically purchase with as little as 3.5 percent down. Sometimes you can get a fully financed mortgage through the Federal Housing Administration, so that you can purchase a home with no money down. The downside of having an FHA loan is that the home needs to be inspected and meet certain criteria. The appraisal is done by an FHA approved appraiser. This can be one additional hurdle that you must jump through in the home buying process.  Another drawback is Mortgage Insurance Premiums (or PMI). If you put less than 10% down on a home you may have to pay these premiums for up to 11 years. The last and most obvious drawback is the amount of interest you will be paying as a result of putting less money down. The larger the amount of money borrowed, the more you pay in the long run.
As you can see, there are options for you when considering using a 650 credit score to buy a house. It is important to consider the pros and cons of the types of loans out there, and do your research so that you know what you are getting yourself into. With a credit score of 650 it is possible to get a conventional or an FHA loan. Ultimately, the more money you can pay up-front for your home, the better off you will be with your 650 credit score mortgage.
Payments on a Home Mortgage Loan
Now that you know you can get a 650 credit score mortgage, what else should you know? Since the goal is ultimately to raise your credit score above a 650, keep in mind your financial situation when purchasing a home. It is important to create a budget and to consider your income and outgoing expenses when calculating the size of monthly payment you can afford on your new home. There are wonderful resources of the web to help you in determining this. Budgetworksheets.org can assist you in determining your monthly expenses. If you get yourself into a mortgage with high monthly payments that hinder you from keeping up on other expenses, you may be in no position to better your credit score, and may even do the opposite. Once you have determined what you can afford for a monthly payment, you can use an online calculator to figure out what price-range you should be looking in for a house. If you are going with an FHA loan, FHA.com has a mortgage calculator to assists you: www.fha.com/calculator_payments. With a conventional loan it is best to rely on your banker to help you determine what you can afford, as the online calculators for home buying can be misleading.
Finally, if you have been wondering what credit score is needed to buy a house and are very serious about increasing your credit score to a score of higher than 650, it is best to be conservative when buying a home. Many people simply try to achieve the lowest credit score to buy a house, and forget to consider all the additional costs of taxes, insurance, upkeep etc. Many people purchase a home at the very maximum their budget allows, leaving little or no wiggle room when expenses come up.
Here are the things to remember when getting a 650 credit score mortgage and trying to increase your credit score at the same time:
Save for a substantial down payment.
Have additional money in savings for an emergency fund.
Continue paying down debt.
Consider debt payments in your monthly budget plan.
Buy conservatively (don't max out your budget).
Learn more about your credit score and ways to improve it!